____________________________________________________________________________________________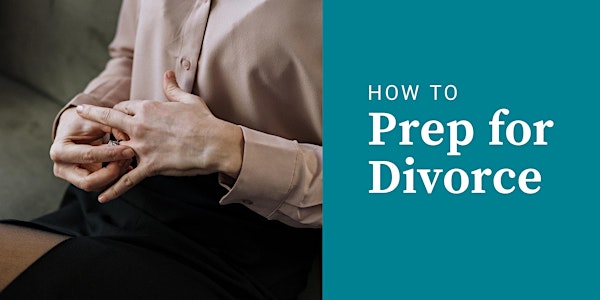 About this event
Divorce Prep Course: Faced with Divorce but feeling unprepared? This course is designed to give people who are facing a possible divorce or divorcing the ability to get educated on the process and to protect themselves financially. We will give you a road map to navigate this uncertain time of your life, answering some of the biggest questions. Will I have enough money? Where will I live? What does the legal process look like? This 6-week course is designed to answer all these questions and more and give you educated insight from local experts.
You can expect a presentation each week followed by a question-and-answer session. In addition, you will receive informational forms and resources to help you. There is limited space available, so reserve your spot now!
Confidentiality: We highly respect your privacy and each student at the class will be required to sign a confidentiality agreement.
Location: 8650 Byron Center Ave, Byron Center, MI 49315 (upper conference room): Please park in the South parking lot and enter in the only door on that side of the building. You will be greeted upon entry of the building and directed to the conference room upstairs.
Meeting Time: 7pm to 8pm on the following dates:
Week 1: Brian Johnson, Certified Money Coach (January 26)
Week 2: Credit Repair—Guaranteed Financial Solutions (February 2)
Week 3: Cody Harding, Goosehead Insurance (Feb 9th)
Week 4: Vincent Frustaglio, Edward Jones Financial Advisor (February 16)
Week 5: Jen Aalderink, Treadstone Funding Loan Officer & Rebecca Snider, Re/Max Realtor (February 23)
Week 6: Alice Bernal, Family Law Attorney (March 2)
For more information and to register for this FREE event please click on the link below:
Divorce Prep Course Eventbrite
____________________________________________________________________________________________
RIBBON CUTTING CEREMONY
AND
OPEN HOUSE
DAY: Thursday, September 22, 2022
TIME: 2:30 p.m. Ribbon Cutting
2:30 p.m. – 5:30 p.m. Open House
LOCATION: Bernal Law Office, PLLC – Alice L. Bernal
8650 Byron Center Ave. SW
Byron Center, MI 49315
If you park in the main parking lot of the building, there are two entrances – one is marked "Main Entrance" and the other entrance has a small sign in the landscaping marked "Bernal Law Enter Here". Follow that sign! We are just inside that door.
Light refreshments will be served throughout the open house. Please join us for a visit, a snack, to check out the new offices, and to meet Katie Reynolds, legal assistant.
____________________________________________________________________________________________
This year, Bernal Law Office has joined the Dorr Business Association to bring Versiti of Michigan, to our community during the Dorr4th celebration. Saturday, July 2, we have a day full of events planned in the North Park. You can click on Michigan below to sign up for an appointment:
but drop-ins are welcome! Stop in and play some bingo while your there at the Pavillion and enjoy a snack or lunch at one of the many food trucks. The carnival will be operating during this time also!
For additional questions regarding blood donation, please visit the Versiti website:
Dorr Business Association
07/02/2022
09:00 AM - 04:00 PM
Dorr Township North Park
1875 142 nd Ave.
Dorr, MI 49323
The blood drive goal is to get 28 blood procedures. Every day, Versiti Blood Center of Michigan needs more than 560 blood products to meet hospital demand. What you collect will go back to help people in your community!